TheAcsMan.com no longer publishes original content material. Reprints of previously published "Daily Market Updates" available to subscribers of OptionToProfit.com appear for informational purposes only and links are de-activated.
1 day an enterprising online pub will publish the words/wisdom of ex-pediatric dentist George @theacsman, 1 of the wittiest of the unknowns

— Herb Greenberg (@herbgreenberg) May 11, 2013
Entries in Sugar Momma (11)
TheAcsMan
|
Posted on
Thursday, April 12, 2012 at 12:59PM
|
tagged
Sugar Momma,
finances,
friends,
stocks
|
Email Article
|
TheAcsMan.com no longer publishes original content material. Reprints of previously published "Daily Market Updates" available to subscribers of OptionToProfit.com appear for informational purposes only and links are de-activated.
Who better to give the real last word to than

Sugar Momma

, who I've mentioned on more than one occasion?
Sugar Momma speaks out for the first and last time.
I have absolutely no background or interest in trading, the stock market, or options.
I came from a career in mental health and dealing with people as opposed to numbers. But living with TheAcsMan, I have been forced to pick up a few insights that can apply to the market or the supermarket of people in your life.
Yes, money, financial stability, all important things. But the real sugar of life comes from the people in your life. Your family, friends, neighbors, co workers, the cashier at Giant who wonders what you are going to do with all that baby bok choy.
Some of the important lessons you learn about trading are similar ideas that can apply to your relationships. There are ups and downs, Cycles, Gotta wait it out, Dont Panic, Be patient, do your homework. You take these lessons and go through life and think you know what's going on with people, what to expect, how to deal.
But people, like the market can sometimes really surprise you, even later in life when you think you know all about someone or something. You know the market, you know a person, been doing all this for 30 years and then a person does something or makes a change that really can be shocking.
So, like with the market, dont panic, don't assume just because it sounds right doesn't mean it's true.
Do a little research, be honest, communicate. Try to learn and find out all you can before you jump to those conclusions that can have some major consequences. If you don't you just might lose something more important than money.
TheAcsMan
|
Posted on
Tuesday, April 3, 2012 at 1:37PM
|
tagged
Apple,
Barclays VIX,
Gene Munster,
Netflix,
ProShares UltraShort Silver,
Research in Motion,
Sugar Momma,
Yahoo,
monkeytail
|
Email Article
|
Share Article →
TheAcsMan.com no longer publishes original content material. Reprints of previously published "Daily Market Updates" available to subscribers of OptionToProfit.com appear for informational purposes only and links are de-activated.
As time goes on I've come to realize that what I once thought was my absolute grasp on the secrets of the Universe were just a prelude to the growing realization that I understand nothing.
Nothing at all.
What I'm also realizing is that during that period of your life when you are on the path of professional ascendancy or at least hoping to be on that path it's not about substance at all.
It's always about appearances. The appearance of substance is priceless.
Which essentially means that the world is divided into just two camps.
Those that are truly capable and those that aren't, but may look good as they feign their way through the system and up the ladder.
For purposes of maintaining a dichotomy, I conveniently overlook those that are in no way capable, nor ever perceived as being capable.
I suppose that there could also be those that had been fully capable but got thrown to the curb as societ and technology passed them by.
Reserch in Motion seems to fall into that last category.
Just a few short days ago, after ridiculing the Research in Motion CEO's performance on the evening of the earnings report that missed analyst's estimates of $0.80 by 7/10's of a cent, the shares recovered from their immediate plunge and actually closed the quarter, which happened to be the very next day, up $1.
It doesn't matter whether you're dealing with a $14 stock or a $600 holding, but a 7% move is a big deal, just as apparently a 0.875% miss in earnings estimates turns out to be and then doesn't
I don't own shares of RIMM, but I have to wonder how in the second day of the new quarter it could be back down to a point that it's now trading 5% below its weekly low, which was already pretty low.
Did anything change?
TheAcsMan
|
Posted on
Thursday, March 8, 2012 at 1:42PM
|
tagged
Apple,
Bob Denver,
Chesapeake Energy,
DateLine,
La-Z-Boy,
Maynard G. Krebs,
Morgan Stanley,
Sugar Momma,
iPad
|
Email Article
|
Share Article →
TheAcsMan.com no longer publishes original content material. Reprints of previously published "Daily Market Updates" available to subscribers of OptionToProfit.com appear for informational purposes only and links are de-activated.
It's around 2 PM on Thursday, but for me the trading week has pretty much come to an end and I stand defeated.
Actually, I lounge defeated. It's really the same thing, just more comfortable and can be sustained for longer periods of time.
As I look back at the week I'm at a loss to explain or to rationalize my continued state of existence. If I don't trade, what am I?
The alternative is frightening and brings back memories of the classic TV character, Maynard G. Krebs," when faced with the possibility of having to do something gainful to support his "footprint."
"Work!"
Bob Denver's character's response to the very possibility of having to work was pretty unrealistic as there was really no evidence that he had ever worked before. Of course I know that sounds like someone's mother using the "how do you know that you don't like liver if you've never tried it," but who knows, Maynard may have liked working.
I like lounging.
Tomorrow will be one of those infrequent days that I will be doing something reasonably constructive and venture more than a few feet from my La-Z-Boy perch. As with most of these days, they were planned a couple of months ago and do contribute to that flickering portion of my ego that still requires self-esteem.
Oh, and they pay well, too.
It's just coincidental that it comes at a week when I've done essentially nothing to advance the argument that I deserve to be perched. Imagine that if your prized talking parakeet stopped talking. I'd probably feed that sucker to our dachshund, Laszlo, who would be so totally self-actualized if only he could get a bird between his jaws.
If I can't do my tricks, what reason is there to keep me going and supplied with a freshly lined cage?I had been hoping to keep doing this even beyond the point that they'll have to start lining my La-Z-Boy.
TheAcsMan
|
Posted on
Sunday, January 1, 2012 at 6:38AM
|
tagged
Sugar Momma
|
Email Article
|
Share Article →
TheAcsMan.com no longer publishes original content material. Reprints of previously published "Daily Market Updates" available to subscribers of OptionToProfit.com appear for informational purposes only and links are de-activated.
Happy and Healthy New Year
Sugar Momma and I began our lives together 28 years ago, having driven cross country together and arriving on the east coast on New Years' Eve.
That first night, we got a pizza from a small place called "Andy's Thrid Generation Pizza" on Long Island. If it's still there, it may be up to the fifth generation by now, just one step ahead of the iPhone.
In that time, I think we've made it to midnight just twice, including that very first New Years' eve. After a truly horrible "Welcome in the New Millenium" party, it's not likely that we'll ever be venturing out again in celebration. We get all we need watching the fireworks display in Australia or Hong Kong.
Tonight will be no different, although through the modern miracle of "On Demand" we will be watching "Bridesmaids" and guessing that it will be every bit as funny as when we saw it in the theater.
As you prepare for what will hopefully be a safe and enjoyable celebration tonight, getting ready for what will absolutely be a wonderful year, I wanted to thank Sugar Momma for having the faith and patience to allow me to sit on my La-Z-Boy and by all appearances, do nothing at all during the course of the day.
That's priceless, as is she.
She never reads this blog, so I can say that with impunity, without fear of losing bravado.
If she were reading this, she would likely want to know why you were reading this, as well.
But despite her incredulity that you would be wasting your time and encouraging me to do the same, she would join me in wishing you all what we wish for ourselves
Happy New Year and a wish that the coming year brings happiness, health and prosperity.
My favorite Sugar Momma reference was How My WIfe's Bra Saves us Money (she liked it, too)
TheAcsMan
|
Posted on
Monday, August 22, 2011 at 7:28AM
|
tagged
Buddhism,
Electrolux,
Hindu,
Sugar Momma,
Thailand,
The Help,
options,
rebirth,
reborn,
reincarnation
|
Email Article
|
Share Article →
TheAcsMan.com no longer publishes original content material. Reprints of previously published "Daily Market Updates" available to subscribers of OptionToProfit.com appear for informational purposes only and links are de-activated.
It's hard to say whether my short term memory lapses are taking center stage or whether I truly had never heard of the story of the "West Memphis Three".
The latter seems strange to me because I am a news junkie. I don't particularly care for history, but eventually current events change their nature and become parts of the annals of our collective existence.
At that point I no longer care.
Either I completely overlooked their 18 year old story or have completely forgotten the story. Either way, I need to be questioning something.
I'm not even remotely going to try and pass judgment on the three men convicted of murderering three young boys. They were just released from prison in some obtuse kind of plea bargain and appeared before the press. I didn't bother reading about the events surrounding the case because now it is in the realm of history.
I don't do history.
But I did watch the press conference the other day with a totally clean slate. Here were three young men who had spent half of their lives in prison and now they were sitting in front of cameras and reporters, clean cut and well spoken.
They were just beginning the process of being born again, except that they still have the burden of a lifetime of memories and possibly guilt and regrets.
It's hard to run away from your mind even if you have some really deep seated pathology.
On the other hand, half a world away you can be reborn as often as you like for a mere $6. Buddhist priests in Thailand perform very popular rebirth ceremonies whereby an individual can shed their date of birth and start all over.
Why is that important? Because culturally the date of birth is tied to beliefs regarding luck and fortune. Don't like your luck? Don't like the way your life had been going, just pay your six bucks and lay down in a coffin . While you're clutching some flowers and listening to priestly prayers a white silken cloth is draped and undraped over your uncovered casket. WIth each pass, a bit of the stench of your life is being removed.
Don't care for you new date of birth? Hey, what's another six?
Depending on your ability to sustain a sense of denial you may be able to run away from your past and memories.
I had my own sense of re-birth this past Friday, but it was unlike either of the two previous rebirths described. Instead, it was almost more like a Hindu vision of going back to a previous life. The kind of retrograde rebirth in recognition of a life poorly lived.
It all started as I became resigned to the fact that I would likely have no trading opportunities this past Friday. My Sugar Momma and I decided to take advantage of the opportunity and went out for a rare weekday afternoon movie.
We went to see "The Help". Of course, I didn't read the book and SM did.
Regardless of knowing the outcome or not, we both loved the movie, not just for the message and story of hope and determination, but also because we both enjoy period movies.
Here's the problem. While the movie took place during 1963, one of the maids in the film was clearly using an Electrolux vacuum canister model that wasn't available in the early sixtes.
I saw the flashback to my time as a door to door Electrolux salesman and immediately recognized the disticnctive blue color, but more importantly, the rectangular shape. If anything, a well healed southern family in 1963 would have their domestic help using a gray Model S. You know, the cylindrical canister.
Then I remembered. I didn't really like that life. I didn't want to be reborn as a vacuum cleaner salesman.
Imagine being a 50 year old career vacuum man and starting off each morning in a team meeting where you could always count on someone saying "Our vacuums really suck". Even more sadly, laughing at those words day in and day out.
West Memphis Three judicial rebirth? Good.
Buddhist rebirth with profit motive? Doubly good.
Hindu rebirth, especially if leading to a lower form of life? Not so good.
Which now brings us to the Monday following the third Friday of every month.
From a purely option premiums perspective last month was one of the very best I'd ever had. I would love to live and relive that month over. That would be a great rebirth. To top it off, to have the memories remain intact would truly be something very special.
But those great premiums came at a price. I wasn't assigned any shares, so I won't have any funds in the portfolio to pick up any meaningful new shares at what I think are bargain prices.
That's the part that I'd like to forget. The fact that all of my holdings closed under their strike prices.
Well under.
The nice thing about selling options, whether the monthly or weekly variety, is that at least they offer the chance for a new beginning. Granted, it costs more than $6 to exercise that right, especially since each stock has its own life, but I can certainly agree with the Thai believers in that the latter part of July and the first three weeks of August 2011 were very bad times to begin an investment's life.
I have no clue what the future will hold, but I don't think it's as bad as a morning vacuum pep talk or even as bad as last month's market.
I'm not likely to forget last month anytime soon, but it will become ancient history, just like 2008.
No matter what this new cycle will bring, it too will be over, maybe as early as this Friday for some holdings and no more than 4 weeks from now for the rest. That's the kind of life cycle I can deal with. Maybe that's why the last cycle was so insufferable. It was one of those damn 5 week options periods.
In the meantime with this month and rebirth to look forward to, I just need to make some room in my brain to deal with all of the new information.
Time for my monthly spring cleaning between the ears.
I think I'll be tossing vacuums, justly or unjustly freed prisoners and last month aside. I'll also be tossing every episode of every evening show on Comedy Central aside so I can just watch them again and find them funny all over again.
No memories and no regrets.
Check out Recent PortfolioTransactions
TheAcsMan
|
Posted on
Wednesday, August 10, 2011 at 7:49AM
|
tagged
Bernanke,
CNBC,
Color TV,
Geithner,
Sugar Momma
|
Email Article
|
Share Article →
TheAcsMan.com no longer publishes original content material. Reprints of previously published "Daily Market Updates" available to subscribers of OptionToProfit.com appear for informational purposes only and links are de-activated.
It's been a long week. I probably don't have to tell you that.
For me, the highs and lows of the past few days were more than just quantitative matters, they were matters of the heart.
As Lou Grant would have said, "I hate matters of the heart".
The week in question started on a real high note, as I watched my son graduate from Army Basic Training last Wednesday and escalated as we were able to bring him home with us to start his junior year of college. So, while stocks were just beginning to really shed some real market cap, I didn't mind too much. Joy can make you forget such mundane things like skyrocketing paper losses.
In fact, despite being armed to the teeth with my traveling trading desk, after a few hours in the car on the first part of the trip down to South Carolina, I decided to spare my lap the deep thermal burns, shut down the streaming CNBC feed and give it a rest.
Of course, at the time, the market was up reasonably nicely and I had a feeling of calm and peace. So much so, I didn't even care that much when I learned that the market eventually turned for the worse.
The next two days I was essentially cut off from any timely market related news. Although I did prove to my Sugar Momma that I wan't addicted to the electronic market tether, I did find myself breaking into lots of cold sweats and sucking the residual sugar off of discarded gum wrappers.
For some bizarre reason, when my oldest son, who now follows the markets tracking his undiversified portfolio of one stock informed me that the market was down 500 points last Thursday, I took it in stride, after all, I had my whole family in tow, reminiscent of long car rides together 15 or more years earlier.
Not only did I take the news in stride, but I actually got a kick out of that news, even though I'm not a short seller. Despite the fact that I exercise a covered call strategy on nearly every holding and despite the fact that the bids on most of those call options were close to zero, I still felt a rush.
For me, the exaggerated bounces in the market never get old. They're always exciting, even if I can't find a way to take advantage of them.
Imagine then how excited I must have been on Monday. Can you believe losing even more than on the previous Thursday? If Dow down 500 points is good for the perverse part of my being, how great is 600 points?
When I was younger, I used to measure money in terms of how many color TV's you could buy with that money. Our family got its first color TV back in 1964, just in time to watch the Yankees - Cardinals World Series. I remember spending most of my time trying to get the colors just right and trying to find the perfect antenna position. I usually ended up being the antenna and the grass usually ended up being blue.
After all, for $500 were you expecting perfection?
At Szelhamos' highest earnings year, I calculated that he could have bought 50 color TV's or one each week. Back then I was too unsophisticated to factor in taxes and things like present day value, or concepts like "constant dollars".
Now that I'm older I don't think in such childish and simplistic terms. Instead, I now calculate a days' gain or loss on the basis of how many Szelhamos years worth of earnings it constituted. For example, instead of saying that Monday resulted in a paper loss of 200 color TV's at 1964 prices, I would be much more inclined to say that the losses covered 4 years worth of peak earnings.
What a rush, albeit a downward spiralling rush to poverty.
While the market was going down, despite an occasional tease upward, the joy still overcame all.
Today, the story was quite different. This time, instead of having headed down south for a bit of happiness, I had to trek North back home to New York for a bit of sadness, as word had come of the death of a woman very dear to me. Not an actual relative, but very much a second mother to myself and sister.
A Holocaust survivor, a refugee from communism, she started a new life with her family and friends in America.Always giving, always smiling and door always open. As much as joy can help you to forget, sadness can help you remember.
But in her case all of the memories were wonderful, but unfortunately they had grown old and increasingly dim, until a touching eulogy reminded us that in everyday actions by her children, grandchildren and great grandchildren those memories live on. Sometimes that memory will take the form of a strudel.
And that's alright, too.
As the days' drive to New York began, I was in the passenger seat, once again with full electronic gear at the ready. Pleased to see the market hold its 200 point gain once again those feelings of calm and peace returned, this time though looking at how many TV's I could buy with those paper gains.
At about 3 PM, heading from the funeral home to the cemetery, my oldest son who was in New York on a business and had joined with us, turned to me and calmly let me know that the market had given up all of its gains.
Serenity. Serenity now. Remember. It never gets old. I keep telling myself I love the violent and unexpected moves.
Now, I also love Ben Bernanke as much as the next guy, but I couldn't imagine in my wildest dreams what he could have said to have shaken the markets so much. Normally I'd have been home rapt on every word and nuance, but today I was left to my wonderings. Did he call Tim Geither a "pussy"? I think I'd put up 1o color TV's at 1964 prices to have a front row seat for that cat fight.
And I like both of them.
Finally arriving at the cemetery the rain was pouring upon us. Briefly it stopped and someone remarked "What a miracle, God is smiling on us". Minutes later the rain came back with a vengeance and that same person took the opportunity to say "What a miracle, God is crying with us".
That reminded me of something that does get old. The various talking heads that believe the viewer has no sense of history or at least no functioning memory. I like my analysts and miracles to be consistent.
But at least here the intention was good. Sun was good. Rain was good. We were celebrating a good life.
As I looked around the assembled crowd, it was no longer the elderly crowd that I remembered from my younger days. With very few exceptions, they are now gone, being replaced by newer versions of themselves.
Oy.
Once back in the car, my personal market reporter, whose personal wealth may dwarf mine if the IPO market can survive the downdraft ,once again turned to me and said "Wow, the market turned it around and closed up over 420 points".
That's a lot of color TV's.
Hearing that kind of news never gets old. It may not be strudel, but hearing my son deliver that news is a sign that I will never get old, rain or shine .
Check out Recent PortfolioTransactions
TheAcsMan
|
Posted on
Wednesday, June 15, 2011 at 7:45AM
|
tagged
LinkedIn,
Pandora,
Ron Paul,
Sugar Momma,
bra,
hydrocephalus,
undefined,
undefined,
yarmulkebra
|
Email Article
|
Share Article →
TheAcsMan.com no longer publishes original content material. Reprints of previously published "Daily Market Updates" available to subscribers of OptionToProfit.com appear for informational purposes only and links are de-activated.
I'm essentially retired.
I work on rare occasions, today, coincidentally being one of those days. I have another 4 days lined up for the rest of 2011. If it weren't for the varied attendant body aches and pains, I'd be very happy, instead of just very happy.
Besides what Sugar Momma brings home, it's just me, my computer and my discount broker.
Today, she bought home a squirrel and some acorns, while I try to catch elusive trades. It would be nice if she actually bought home a pay check. Instead, it gets electronically deposited, which takes away a little of the excitement of fondling the money proxy.
I miss the days when I used to be paid in gold fillings. I admire the integrity and conviction of a toothless by personal choice Ron Paul.
So after giving up a very substantial income when I was on the dark side, we've had to learn to economize in all aspects of our lives.
First, we sent our youngest son to a state university. Much less expensive than our previous attempts at educating one of our kids. Although during my initial consideration of Altucher's treatise on why college is a waste, I dismissed his theory, now I'm not so certain.
Next, we insisted that he enlist in the army. Any army, as long as they had a tuition benefit. He's currently in basic training, having decided on the United States Armed Forces. They will be paying for his senior year of middle school.
Then we stopped checking the mail box and answering the telephone. I also conveniently forget to sign checks. There's alot you can get away with if you blame it on age.
Of course, you already know that I use a discount broker. No need to splurge there.
But even during times of belt tightening, man needs a respite from the daily grind, so in that mindset, Sugar Momma and I decided that we needed a vacation.
Rather than out typical luxurious retreat and pampering, oh how I loved the chocolate hydrotherapy of our past life, the hot and cold running prostitutes and other regal amenities, we decided to be one with nature and went camping.
Among the things that I love and respect about my Sugar Momma is her ability to see outside the box, even if that's no longer an accepted hip consulting expression.
The one thing that I would like to change about her is her inability to get out of the box when she accidentally gets entrapped.
Can't tell you how many times she'd been unknowingly placed out with the recycling.
Anyway, instead of buying an expensive tent, she suggested we use one of her bras for shelter. She was always good for such thoughts. Unfortunately, the royalties on her patented use of bras as 2 chinstrapped Yarmulkes for Orthodox Jewish people with hydrocephalus had by now gone dry, along with the CSF.
(Too many obscure references?)
Regardless, another bra was a sleeping bag for two and a third one was used as a fishing net and it helped to feed an entire village.
Priceless.
You've probably already figured out that Sugar Momma doesn't read my blog.
What prompted that line of thinking was her discussion with a neighbor last night regarding an upcoming "girls day" when they were going to go shopping for custom made bras.
I have no clue what a custom made bra costs, but I'm guessing that her material costs alone will be substantial. Much less so for the neighbor.
The two joked that they would tell the salesperson that they were sisters. I don't dare post their pictures, but trust me, they're not spitting images.
So as a result, I'll have to trade more for those luxuries in life.
Trading more has come as a by-product of weekly options. The weeklies have been so nice to me, although they've complicated my life and made it harder to keep track of my holdings.
As has Twitter.
Specifically, its been a little more difficult to keep track of what positions have been hedged, which ones are weeklies and whether split priced positions were priced at different strikes.
Since I'm new to the weeklies, I haven't yet designed a simple color coded spreadsheet to help me mindlessly be aware of my envoronment. At home, I know to match my crocodiles with crocodiles and my lion clothes with other lion clothes, but it's not so easy when it comes to trading.
Yesterday was another one of those near perfect days that have been fewer and fewer recently, Although we had one of those jjust 3 trading days ago, it still seems so distant.
WIth the exception of a very small and new position in Bank of America and the predictable laggards AIG and RIMM, everything else was up today. Somewhat disappointingly, so were some of the positions I was hoping to pick up next week.
But there's still plenty of time. After all, whereas we had the great day 3 days ago, the very next day more than erased the jubilation.
What seemed different today was that there really was no jubilation. None of the talking heads seemed to be saying that we were heading even higher, or the typical "we've turned the corner".
That has to be bullish, but in my own proprietary indicator, I saw bearish signs.
So I did what I usually do when the market has a strong upward move. I try capitalizing on the bullish sentiment and sell those call options while the premiums move higher on bullish sentiment. As many as I can.
That's what I did today. Resold the Transocean options that I bought back yesterday and then sold calls for shares in Freeport McMoRan, British Petroleum and, yes, wait for it, my small position in Google.
Finally, "Mission Accomplished"
However, was not all joy, as I took a very small loss as I closed out my short put position in Yahoo.
But you're wondering what my proprietary indicator is, aren't you? No you're not, because in all likelihood you haven't even made it this far down in today's blog.
Who are you kidding?
Well, just for my own satisfation, that indicator is the number of clicks on Google ads on this site.
The more clicks I get, the more likely that we're at some kind of a top. Who clicks on these kind of financial ads anyway, unless they think there's an opportunity awaiting them?
Oh yeah, that and tomorrow's Pandora offering. Somehow, this great service, but lousy business model, got the much coveted single letter stock designation of "P".
No short term or long term prospects of profits, but just as with LinkedIn, the offering size and price per share have ratcheted upward.
That can't be good either.
But once again, I don't really care, since I don't play that game of chasing hot stocks. Even solid companies like VMWare, after a meteoric post-IPO rise cooled off pretty fast after liquid nitrogen got poured over it. A little too fast for normal people to bail.
Instead, I'm just going to take one of those idle bras and fill it up with today's trading profits and wait for the next boring opportunity.
Then I'll just perch my lazy boy on the La-Z-Boy to watch my wife run around the house trying to find all of her bras.
Priceless.
TheAcsMan
|
Posted on
Monday, June 13, 2011 at 7:54AM
|
tagged
FInancial SPDR ETF,
Facebook,
Goldman Sachs,
HBO,
Home Depot,
Klout,
SPDR 500,
Sugar Momma,
Transocean,
Tweets
|
Email Article
|
Share Article →
TheAcsMan.com no longer publishes original content material. Reprints of previously published "Daily Market Updates" available to subscribers of OptionToProfit.com appear for informational purposes only and links are de-activated.
I never really thought of myself as a "user", but obviously I've been in deep denial.
Years ago, I saw an obscure movie on HBO. It probably had a very short theatrical release. Up until 5 minutes ago, I thought the name of the movie was "Dutch Treat", but a check of IMDB finds a different movie by the same name.
For me, the most memorable line of the movie that I seem to have forgotten was "You car is your dick. RIght now, you have a really small dick". That was the life lesson taught to a mid-west kind of innocent guy who moved to California.
Well, Twitter is the same.
I think you measured by your number of followers and your "Klout".
Yesterday, I decided to take some drastic actions to increase my number of followers and "Klout", since both had stalled out in the past week after some nice and steady growth. Like most men, I wanted bigger Klout.
I wanted to cast a Klout shadow that would make Anthony Weiner envious.
First, I opened a Facebook account.
I actually had one, that was closed to everyone. I used it only to be able to place Facebook ads. I was proud to have no Facebook friends. I actually worked that fact into nearly every converstaion that I had with real people.
But since I now want to sell books, I was told that I need a Facebook presence and a page for Option to Profit.
Okay. The page went up and I was immediately stunned to see how many suggested friends were out there for me. Some names sounded slightly familiar, most not at all. Was I getting Alzheimers? Was there a reason I wasn't remembering my "friends"? WHo were these people?
But before I get back to Facebook, I also decided to start following all of my Twitter followers. Previously, I had about a 4 to 1 ratio. I followed relatively few people and maybe, as a result, I had relatively few followers.
Maybe, the reason for that was my content was "drek", but I'll choose to ignore that possibility.
So follow I did and lo and behold, I increased my number of followers by about 20%.
I'm a user. No doubt about it. Facebook, Twitter. It's all about getting people and then getting their people and their people's people. All to buy books.
That's when the reality hit.
If I thought that my Tweets were tripe, that all changed when I saw what was now pouring into my Twitter stream.
Holy tripe.
Here comes the guilt.
I need to unfollow most of those new people. I feel badly about that.
I do, because when someone no longer follows me, I feel just a little bit sad, although I often wonder why they were following in the first place. Was there anything in my Tweets or blogs that indicated I would be a good place for learning a daily Russian word?
At first I thought that I just couldn't do that sort of thing, because I really wasn't that kind of person, but then came the realization.
I stopped being a guilt ridden person that day that I gave up on buy and hold stock strategies. It has to all be about the outcome, not the process.
These days, I'm in and out. Not quite a day trader, but one whose trading pattern more befits my attention span. I also have way too much regard for my mental well being to be a day trader, although I do make about 4 trades a day.
For example, I expect that today, I'll be buying shares of Home Depot, Transocean and the Financial Sector SPDR, with the cash that will come pouring in from assignment of my shares in AIG, GS and JP Morgan.
I plan to write in the call options immediately on all three, with expiration this Friday.
Home Depot, in fact, goes ex-dividend on Wednesday and if it gets exercised, I'll be happy and just buy something else and again sell call options.
No guilt there. Just want to wring every cent out of those shares as quickly as possible. Sort of like Jack the Ripper.
So I started the Twitter pruning this morning with a newly discovered guilt free feeling. Sorry "Great Deals in Southern Florida" peddler. Sorry "Job Bank in Sacramento" guy.
And so it went.
But being a cautious kind of guy and still wanting to retain my followers, I hedged my bets. Not much of a surprise, considering how I trade.
I decided to start by dumping those people that had lots of followers. Looking through their Tweets, I couldn't understand why they had so many, but I figured they would never miss me and would be less likely to reciprocate.
If that works, then it's time to prune down those that seem to have a strong evangelistic tone. I'm all for religiousity, but I want mine in spasms of more than 140 spaces.
As the soon to be old saying goes "You lost me at Lord".
Now, back to Facebook.
My sister immediately found my presence. I had long resisted her suggestions to join and become a part of "communities" of our past.
Her response was "OMG" and then posting a photo of us taken in a photobooth, probably about 45 years ago, back in the days when we had such things as booths.
My oldest son, posted this one Twitter: "Just received a #facebook friend request from @theacsman #sellout"
I'll have to agree with both of them.
Not being one of great diplomatic talents, Sugar Momma and I went out for dinner last night with two friends. Interestingly, they had also found me on Facebook and sent in their "friend requests" an hour before our dinner.
I accepted. What else could I do?
Then at dinner we spoke about many things.
I only wanted to know how to go about "de-friending" people. Not them, of course, just people.
Forget the guilt.
As I was starting to look at the "wall", that monstrosity that I had somehow created, all of these obscure friends of friends were now appearing. There was no "greater plan" and my Option to Profit book theme was getting buried.
Remember, all I want to do is sell books. I really didn't need to know about little Moishe's bris and how scrumptious the whitefish was.
It's not becasue I'm anti-social, I just don't care.
And that too, extends to stocks. I really don't care about all of the details. I don't even necessarily want to know wehat a company makes or what services it provides.
I'm a user. I just want it to make money for me.
Is that so bad?
Now, if it turns out that the Facebook page gets my "friends" to read this blog, I'll have some explaining to do, but then at least I'll know that the advice to start a Facebook page was a good one. Better yet, increasing book sales would really make the point.
My new friend, Adam Pflantzer, at Shmish.com (a nice financial news aggregator site), has told me that I need to put my facebook address out into the ether, so here it is: http://www.facebook.com/TheAcsMan
There's nothing like profits to ease the guilt pangs.
So here's to friends and followers. Especially the ones that buy books, post on their walls and the walls of their friends and their friend's friends.
And so on and so on.
TheAcsMan
|
Posted on
Thursday, May 5, 2011 at 7:30AM
|
tagged
72 Virgins,
Applebees,
Freeport McMoRan,
Green Acres,
Green Mountain Coffee Roasters,
Mosaic,
Osama bin Laden,
Rio TInto,
Sugar Momma
|
Email Article
|
Share Article →
TheAcsMan.com no longer publishes original content material. Reprints of previously published "Daily Market Updates" available to subscribers of OptionToProfit.com appear for informational purposes only and links are de-activated.
What's in the Szelhamos Portfolio?
Today is a perfect example of everything that's right with the modern world.
Normally, I'm pretty much of a stay at home schlub. I'm not even sure if that's really a Yiddish word or not, but I can't describe myself as a stay at home dad, now that my kids are out of the house.
Fortunately, they haven't figured out that a locksmith could help them get back in.
But that's not the point.
Today is one of those days that I will be out of the house most all day. No, not because it's Cinco de Mayo. I have no idea what that celebrates, except I know that it's not something that I celebrate.
Although I may be a schlub, I do make most of our family income by trading, while I sit and stare at the computer and the TV screen. At least I'm not a worthless schlub and I have taken on more of the cooking chores, because I feel my Sugar Momma deserves some culinary delights.
But ever since we got Caller ID on the TV screen, I don't even have to turn my head anymore. If only La-Z-Boy would finally put a chamode in their recliners, then I'd be really poised to suspend most voluntary body functions. At least until the closing bell.
Just to be clear, there are some things about the modern world that I don't like. The very idea that there will never be another new episode of Green Acres starring the original cast is just inexcusable.
Yet somehow, we manage to go on.
I also miss some of my childhood candies, such as Bonomo Bars, that have had 50 years to make their return, but have not.
Although my teeth are probably grateful for that, the rest of me remembers the joys of trying to devour the razor sharp pieces.
But there's no reason to dwell in the past, reliving such things as having Green Mountain Coffee shares exercised from me $25 ago.
Instead, let's focus on what's great about the modern world.
The fact that I could write this blog while stuck in traffic is one of the pretty cool things. Although when you enter into my state, you are greeted with traffic signs warning drivers aginst texting, it says nothing about blogging.
But better yet, during the day, even going from meeting to meeting, I'll be able to make trades just by going to that wonderful Droid my sons convinced me to get.
I may, however, cut down on my superfluous Tweets tomorrow. Luckily, they also convinced me that the unlimited data plan was worth it, because it has been.
One thing about the modern world, before I go on, that I don't like, is the propensity to change the meanings of words. One prime example is "unlimited", as in "unlimited data". Putting a limit on unlimited seems wrong. Although I do understand the concept of throttling. That's just like continually getting smaller and smaller portions when you go to the "All you Can Eat" deals at Applebees.
Who knows what kind of mammal has ribs that small?
But still, the good outweighs the bad, especially since I don't eat ribs.
Someday, this modern world will figure out a way to impant a cable TV receiving chip in my eyes so that I can always be connected, as I disconnect from the reality of the world that is trying to intrude on my preferred reality.
Not being glued to the screen robs the chance to get up to the second worthless news.
I also must admit, that in the 10 days or so that I've been on Twitter, I've grown to like the postings of a number of people, some of whom are really pretty funny. I will miss the constant real time updates, although I've pruned my "Following List" down by 50%.
Since I make it a strong rule to never use public restrooms, I'll have some difficulty keeping up with the Tweets.
One thing that I really like about the modern world is how fast everything moves. Specifically, I love how fast the stock markets moved.
Without dealing in percentages, imagine how many years it would have taken to double the Dow Jones in the 1950's. Imagine how long it used to take to recover from any kind of drop in prices. A generation is the answer, as that wa not a rhetorical question.
These days, you blink your eyes twice and your favorite stock has run through a couple of up and down cycles and then some.
I own shares in Mosaic, Rio Tinto and Freeport MacMoRan. Despite that heavy load, my portfolios are still well diversifed. But those stocks gyrate like wild, yet still manage to stay in a range.
Never would have happened that way when Arthur Burns was Chairman of the Federal Reserve.
Man that guy had great hair, but most will admit that things really picked up after a bald Volcker took the reins.
Since then, baldness has been the modern day version of hair.
My full headed mane speaks poorly of my keeping up with the times. I've been trying as hard as possible to increase my stress levels, thinking that may cause some exfoliation, but now that Bin Laden has started on his journey to meet his 72 virgins, I have less to worry about.
And it's a good thing, because I've been spending too much time worrying about these past few down days.
I know that it will soon change course, but what if the new modern world end up just like the old times?
At least Green Acres would be back.
Check out Recent PortfolioTransactions
TheAcsMan
|
Posted on
Thursday, April 28, 2011 at 8:10AM
|
tagged
Art Cashin,
Ben Bernanke,
FOREX,
Harvard,
Herb Greenberg,
Krispy Kreme,
Rick Santelli,
Ron Paul,
Sugar Momma
|
Email Article
|
Share Article →
TheAcsMan.com no longer publishes original content material. Reprints of previously published "Daily Market Updates" available to subscribers of OptionToProfit.com appear for informational purposes only and links are de-activated.
Since no one else will say so, I will.
I'm a pretty smart guy.
Two degrees from Harvard, living a pretty good life, only working if I want to and having a Sugar Momma go off to work 4 days a week.
Not bad. Kids are out of the house, dog is low maintenance and the coffee is fresh.
But as hard as I've tried, I really don't understand currencies. And let me throw in bonds, too.
All of this talk about the dollar, interest rates, currency exchanges just leave me dazed.
Forget about concepts like the Japanese Yen Carry Trade.
And yet, all sorts of morons are extolling their insights into the FOREX and willing to sell you a piece of their underdeveloped cortical lobes.
But at least I do know that the sanctity of the value of the US Dollar is a heated area of discussion.
In fact, yesterday, Art Cashin, while on CNBC, referred to Tim Geithner's statement regarding his defense of the value of the dollar as being a "Pinocchio statement".
Then there's the perennial Ron Paul crusade. Gold, dollar, consipracy. Whatever. Today he used the word "collusion".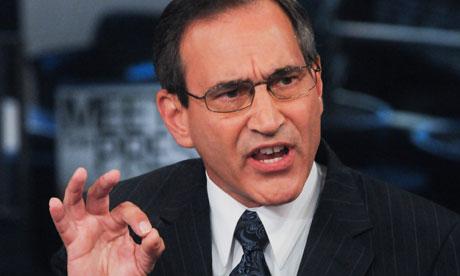 But this morning, just as I thought that I was at least beginning to understand the sides, comes RIck Santelli to upend my tenuous comfort zone.
As he was very patiently and uncharacteristically listening to the question set-up, he started his response by calling Chairman Bernanke an "honorable man".
The cynical me would have interpreted that somewhat akin to starting a response with the preface "With all due respect..."
But the rant never came off.
He actually did not diss Bernanke.He did not come to bury him.In fact, hestated that he believed that Bernake was a good American and had the interest's of the country heart.
I ascribe this to the fallout from Obama's full birth certificate being released.
Who knew that so much venom could be controlled by a single piece of paper?
Maybe the next thing to occur will be Trump changing his hair style.
But getting back to my ignorance, and mind you, I've always been very good with numbers and math theory, even having read Irving Adler's book on mathematical theory in 9th grade, yet still the currency thing escapes me.
Yes, I understand the inverse nature of all things interest rate related. I know to think backwards when it's called for. I even know not to end a sentence with a preposition.
I understand that as the Euro strengthens, the dollar may weaken (leaving out the further complication of the Swiss Franc).
But I like the idea of being able to pare down our deficit by taking advantage of a weak dollar. Isn't that also good for our exports? Or is that something that needs to be considered as the inverse of the inverse?
But again, Santelli honoring Bernanke?
That really throws things into a tailspin.
I've checked my Harvard degrees. They are irrevocable, not like those honorary pieces on faux parchment.
My best explanation, until proven otherwise, is that this was just another dream.
The idea of Santelli being respectful of Ben Bernanke is more ludicrous than KrispyKreme sending Herb Greenberg a box of free doughnuts daily, in thanks for his thoughtful and insightful analyses of their business practices and accounting.
It could happen.
NEWEST FOOTER2
Check out Recent PortfolioTransactions