TheAcsMan.com no longer publishes original content material. Reprints of previously published "Daily Market Updates" available to subscribers of OptionToProfit.com appear for informational purposes only and links are de-activated.
1 day an enterprising online pub will publish the words/wisdom of ex-pediatric dentist George @theacsman, 1 of the wittiest of the unknowns

— Herb Greenberg (@herbgreenberg) May 11, 2013
Entries in Ben Bernanke (8)
TheAcsMan
|
Posted on
Wednesday, March 21, 2012 at 11:04AM
|
tagged
Ben Bernanke,
Goldman Sachs,
Green Mountain Coffee Roasters,
Henry Paulson,
Malthusian,
Starbucks,
TImotyhy Geithner
|
Email Article
|
TheAcsMan.com no longer publishes original content material. Reprints of previously published "Daily Market Updates" available to subscribers of OptionToProfit.com appear for informational purposes only and links are de-activated.
I don't know whether is the cacophony of "Heils"or perfectly synchronized goose stepping that color my perception, but something makes me uncomfortable when there appears to be near universal agreement on most any topic.
Yes. Starving children in Africa is bad. No argument there. Everyone can agree on that point. Even Malthusians, deep down, probably fret about the tragedies that befall the most vulnerable, despite believing in the necessity of those tragedies. And yes, the repeated elections of Saddam Hussein represented the will of the people, but otherwise, too many people being on the same page develops a level of comfort that tend to overlook what should be obvious.
For me, that level of comfort begets discomfort. It's that point at which irrational exuberance becomes over-heated frothy exuberance, almost as if it had been left overnight on top of a new iPad.
This morning Goldman Sachs came out with what could only be described as an extraordinarily bullish call, at that point that we're now about 7% below the 2007 highs. They pronounced bonds as being "dead," which has no impact on me, since I never understood bonds, nor ever planned on being old enough to fall into the trap of asset allocation. Not to be overly exaggerating the opportunity, they reportedly said that "stocks offer the best opportunity of a lifetime."
But where were they and everyone else 6,000 points ago?
The answer comes when you read the fine print and learn that Goldman Sachs data indicated that the average life span of a Muppet is less than 4 years and their short term memory may be even less.
The on-air comments this morning included the suggestion that U.S. banks are so strong at this point that they could buy European banks and put them out of their misery. Additional comments took a variation of the risk on - risk off theme and applied it to China and the U.S.
More amazingly, there was discussion relating to holding accountable the talking heads that had been bearish over the past few thousand points on the Dow.
Now that's got to be a boldly bullish perspective when you're willing to call your mainstays out on the carpet, other than for the fact that there's an endless source of people clamoring to be a talking head and willing to say whatever it takes to get attention and notoriety.
TheAcsMan
|
Posted on
Thursday, March 15, 2012 at 2:45PM
|
tagged
AIG,
Bear Stearns,
Ben Bernanke,
Goldman Sachs,
JP Morgan Chase,
Johnny Cash,
Khaddafi,
Lloyd Blankfein,
Moses,
Muppets,
Research in Motion,
pub crawl
|
Email Article
|
Share Article →
TheAcsMan.com no longer publishes original content material. Reprints of previously published "Daily Market Updates" available to subscribers of OptionToProfit.com appear for informational purposes only and links are de-activated.
As we enter into Day 2 of the Greg Smith inspired crisis, once again, for those who have faith it's often very helpful to look at one of the many bracelet reminders on their wrists.
WWGD?
It's no surprise that should be a natural topic title, as I've already covered various crises from the perspectives of Johnny Cash and Moses, always asking the same question, which in this case is, "What would Goldman Do?"
In general, it's my belief that if you follow the basic behavioral principles established by either Cash or Moses, you'd be on pretty good footing, as long as you were able to maintain your faith and keep your cool in the face of mounting stress.
Oh, and stay off that cocaine. It's a nasty drug. Not everything that Cash did may be right for your situation. Consult with a pharmacologist before initiating any new strategies.
On Tuesday, in the last hour of trading shares of Goldman Sachs soared about $7 as results of the Federal Reserve's "Stress Test" were released.
Released? Well, sort of.
Actually, it was Jamie Dimon, CEO of America's bank, JP Morgan Chase, heir to the Morgans and Rockefellers, who jumped the gun by two days and as result speculation flowed regarding every other major bank's stress test standing. They were all bid up quickly in the absence of corroborating data in a perfect example of investors exercsing their "FOMO."
My guess is that Jamie Dimon, though perhaps well regarded, isn't terribly well liked within the administrative circles of the Federal Reserve. There's probably some residual disagreement over who helped who when it came to the "rescue" of Bear Stearns. Dimon certainly has used JP Morgan's role in that transaction to his public relations credit, if not also to his bottom line credits.
I know that people pay lots of money for the opportunity to have lunch with Warren Buffet, but I think I'd rather donate the money to charity for the opportunity to spend a day doing a pub crawl with Ben Bernanke and finding out how he really feels about certain things.
I'd start by asking about Ron Paul and Jamie Dimon.
TheAcsMan
|
Posted on
Thursday, March 1, 2012 at 5:30PM
|
tagged
Ben Bernanke,
Shvontz,
T-Shirt,
blog,
coffee mug
|
Email Article
|
Share Article →
TheAcsMan.com no longer publishes original content material. Reprints of previously published "Daily Market Updates" available to subscribers of OptionToProfit.com appear for informational purposes only and links are de-activated.
For those who noticed by absence, thank you.
The rumors of my death were much under-stated.
Was it the lack of the daily T-Shirt/Coffee mug combo that you missed, the irrelevantly annoying Tweets or the blog entries?
Due to unexpected and delayed reaction following a minor "shvontz" related procedure on Monday, I wasn't able to do any of those.
I made a few trades and had enough neural function to realize that the much anticipated rise in precious metal prices that I expected during Ben Bernanke's congressional testimony, in keeping with the reaction to his last three public outings, didn't materialize.
Just when I thought I had it all figured out. I still don't think he said anything much different from the last times, but I suppose that's why I'll never run with the big boys.
At the moment, I'm doing my best to stagger.
Anyway, I hope to be back tomorrow.
In the meantime, here are the trades made over the past couple of days.I bear no responsibility for them. All I know is that I received e-mail confirmation indicating that the trades were made. Apparently, my induced and receptor flooded side prefers selling puts.
I'm going back to bed. There's another drug induced nymph beckoning to me.
Check out Recent PortfolioTransactions and Transaction Performance
Recent Trades
Security
Type
Action
Type

March 1, 2012

RIG

Put

STO

Crumbs

March 1, 2012

HAL

Put

STO

Crumbs

March 1, 2012

FMCN

Put

STO

Monthly

March 1, 2012

KSS *

Call

STO

Monthly

March 1, 2012

KSS

Stock

Buy

February 29, 2012

HAL

Call

STO *

Weekly

February 29, 2012

HAL

Stock

Buy

February 29, 2012

HAL

Put

STO

Weekly

February 29, 2012

AFL

Call

STO

Monthly

February 29, 2012

RIO

Call

STO

Monthly
TheAcsMan
|
Posted on
Thursday, January 26, 2012 at 8:01AM
|
tagged
Apple,
Ben Bernanke,
Cheetos,
Comedy Central,
FOMC,
Google+,
Hampton Pearson,
Netflix ProShares UltraShort Silver,
ProShares Ultra Short Silver ETF,
Steve Liesman,
gold,
interest rates
|
Email Article
|
Share Article →
TheAcsMan.com no longer publishes original content material. Reprints of previously published "Daily Market Updates" available to subscribers of OptionToProfit.com appear for informational purposes only and links are de-activated.
Most people go through two stages of life when they really like certainty and predictable patterns.
Really young kids and really old people. Both tend to get very cranky when their schedules are thrown off or they don't get what they were expecting when they were expecting.
I'm neither of those demographics, being uncomfortably in-between, but I do need the predictability in life to keep my balance intact.
I, too, can get cranky.
For as long as I can remember, ever since I've been interested in the release of the "Federal Open Market Committee" (FOMC) statement on those Wednesdays, they have one of their eight annually scheduled meetings, the statement has been released at 2:17 PM.
The regularity of the timing led me to scoff at the reports that would cite the release as being anticipated at 2:15 PM.
Amateurs.
I never particularly cared why they chose an odd time, perhaps because it is a prime number and, after all these are economists and numbers wonks, but that was the routine.
By contrast, I do care why Comedy Central starts many of their shows at bizarre times, yet I've never been able to uncover an answer. I doubt that the prime number theory applies. Math is frequently not a strong suit for those in the entertainment end of the entertainment business.
In fact, I've always been so attuned to the FOMC announcement that it became a reason for regular party giving with a countdown to 2:17 PM among me and my many friends and admirers, although most of the time it was just me.
And by most of the time, I mean "always."
Comfortably seated at 12:28 PM, the characteristic voice of CNBC's Hampton Pearson cut in with a reading of the statement.
My first thought was that Pearson had gone rogue and decided to flip the middle finger to the embargo on the statement and decided that he alone would control the markets.
I thought we'd hear doppler like screams coming from Hampton Pearson as he was being hauled away by SEC security people further away from the microphones.
But no.
TheAcsMan
|
Posted on
Wednesday, October 19, 2011 at 7:43AM
|
tagged
Apple,
Ben Bernanke,
David Einhorn,
Green Mountain Coffee Roasters,
Intel,
JP Morgan Chase,
Peets,
Ron Paul,
Simon Hobbs,
Starbucks,
Yahoo
|
Email Article
|
Share Article →
TheAcsMan.com no longer publishes original content material. Reprints of previously published "Daily Market Updates" available to subscribers of OptionToProfit.com appear for informational purposes only and links are de-activated.
I'm not a really big fan of chart analysis.
I'm really humbled when I see some of the analyses that are performed by chart technicians as they crunch and manipulate data and then lay it out in simple graphic forms for the rest of us to ogle and admire.
I won't say that I'm amazed by what they do, but I will say that I'm amazed that 2 different people can see the same exact graphs and draw the same lines and come up with different conclusions.
Using the kind of analysis that is better suited to a Rorschach Test, somehow people see incredible details and images from the saw-toothed lines. Best of all, they even give names to the images that they think they see.
I've often wondered why the "p" in "psychotic" was psilent.
With that in mind, you might understand why charts don't show up very often in this blog site and why I pay very little attention to charting and technical analysis in the Option to Profit book.
The fact that I know nothing about the tenets of technical analysis are just incidental to their absence.
I still think of myself as analytical, but most of the time quantitative analysis is best suited for events that are predictable.
Human emotions and the reactions to external events aren't very predictable. That's why it's easy to have a "fair and balanced" discussion on any economic issue.
Until the least 2 hours of trading on Tuesday, when word came out that there would be a permanent oversight "troika" in Greece and that the EU was prepared to assemble a $2 Trillion bail out fund, the day's big story was Green Mountain Coffee Roasters.
David Einhorn, who is legend for his early and dismissed warnings about Lehman Brothers, has some concerns about the K-Cup Kings. (See his 110 slide PowerPoint presentation, GAAP-uccino)
He was fairly universally atacked.by the 99% and at least some of the remaining 1%.
GMCR has been one of those "mo-mo" stocks. Not only did it have "mo", but it had a double dose of momentum.
After a 3 for 1 split, it's current $80 per share price would have been $240. Not bad, but just a 2 months ago GMCR was at about $110.
There have been lots of questions swirling around GMCR. Accounting issues, patent issues and whether their alliance with Starbucks is really a good deal.
But look at the above graph. Just look at the performance of the Coffee Kings compared to SPDR Gold Trust Shares.
As a disclaimer. I've owned both GMCR and Starbucks in the past year and we drink lots of Peets at home, as it reminds Sugar Momma of her care free days in Berkeley.
By comparison, Gold has been a piker. It doesn't come close to even the laggard performance of Starbucks.
Gold, the basis of all that we hold valuable, the cornerstone of Ron Paul's economic theory has been, at best, an also-ran, three times removed.
Here's the thing. It's repeatedly been ;pointed out that gold is just a rock. James Altucher was the first person that I heard to come right out and say so, at the very peak of gold's price run higher. But he has also predicted that Apple will be the first $2 Trillion company, making its liquidation a possible solution to the money needed for the EU banking bailout. Although in his blogs he talks abouty a $1 Trillion level, during a CNBC interview he hiked it to double that amount. Either way. enough to buy a few months of banking calm overseas.
The rock part makes it hard to eat.
Without doing the research, I'm certain that point has been made prior to Altucher pithy "It's just a rock" comments.
I don't know if Ron Paul has considered that shortcoming. It's no surprise that you don't find Godfather's Pizza offering a gold topping. It may have as much to do with the fact that would be a price buster for the 9-9-9 special, as much as it has to do with its inedible state.
If the eventual GOP nominated team turns out to be Paul-Cain, they'll have to work that out.
In the meantime, not only can coffee be ingested and help to sustain life, but it also helps to nourish and give life to another useful currency.
Tulips.
Just spread those coffee grounds around the tulip bed and you'll have an energized bounty of flowering fools.
The next step is Ron Paul's. I don't see how he can keep his ground, especially after mentioning that children's health care wouldn't be on the chopping block in a Paul administration.
At least not until other areas were eliminated first, since he explained, "we wouldn't be able to do everything all at once".
If Green Mountain continues its fast fade, Paul may be spared the painful decision of switching from Gold to Grounds
In the meantime, once the EU news was reported, the market took a decent 90 point gain and quickly turned it in 250, before giving up a little.
Simon Hobbs, of CNBC, who if you didn't know, was British, has been a consistent voice of reaonable interpretation of European actions during their banking crisis.
His skepticism has, thus far, been consistently appropriate.
His critique of the report in the U.K's Guardian newspaper seems to have been well placed, as the market began to recognize that the reports were more paper tiger-like than a real full frontal assault.
For the most part, I was a bystander during the day's trading.
I did sell some JP Morgan Chase calls, but did so prematurely, as the shares went quite higher later in the day as the EU news came out.
No matter. There are still 3 days for more earth-shattering news to hit.
Once the EU news was digested and GMCR was ancient history, all ears and eyes turned to the after hours earnings reports of Intel, Yahoo and Apple.
The big news was that Apple, which always "underpromises and over-delivers", had its first EPS miss since 2004.
The inital reaction was pretty brutal, with Apple taking a quick $30 hit, which represented a 7% hit.
Cooler heads prevailed and those losses were quickly pared back to about 4%.Certainly those cooler heads prevailed in Goldman Sach's case, as it reported poor earnins, but saw its inital 5% drop turn into a 5% gain.
Based on "technicals" one talking head on CNBC posited that Apple was exhibiting "bubble" behavior and that it's price momentum was indicating that the bubble was about to burst.
He might be right, but we'll probably never know if he was wrong.
Yahoo and Intel had nice numbers, so hopefully there will be some follow through in Wednesday's market.
The problem with that line of thought is that it puts too much emphasis on rational market action. Events driven by events and data, rather than tangentially related rumors.
Based on where we seeem to be going, the likelihood of the market responding to real economic news is as likely as Ron Paul burying his gold around Ben Bernanke's tulip beds.
More likely is that in a Ron Paul administration he would just plant a big kiss on Bernanke's two lips in preparation for a literal fitting of cement shoes, and then peacefully sip away on some fine Green Mountain espresso brew
Invest like TheAcsMan
Option to Profit is available as either an eBook or 300+ paperback. Take a humorous look at a serious topic and learn how to make your portfolio finally go to work for you in bull and bear market environments.
See a sneak preview of Chapter 1. hoco blogs
More about the book and purchase options. Scroll down and read the Szelhamos Rules blog, updated every weekday.
Find OTP Book at Amazon, B&N or now you can also Order direct from publisher. Use 10% Discount Code P4S2ZD8H
TheAcsMan
|
Posted on
Friday, June 24, 2011 at 8:00AM
|
tagged
Barney Frank,
Ben Bernanke,
Dennis Kneale,
Greek,
Halliburton,
Home Depot,
ProShares UltraShort Silver ETF,
Riverbed Technology,
Ron Paul,
Sallie Mae,
Ted Williams,
Whitey Bulger
|
Email Article
|
Share Article →
TheAcsMan.com no longer publishes original content material. Reprints of previously published "Daily Market Updates" available to subscribers of OptionToProfit.com appear for informational purposes only and links are de-activated.
Unless I'm missing the obvious, any consecutive two days in the markets these days would qualify for being the impetus for today's blog title.
It's becoming a truism that no two days are alike, unless you consider diametric opposition to be the sincerest form of flattery. A truism that's repeated almost as consistently as hearing parents tell you just how incredibly different their children are in all aspects of their lives.
Wednesday was an absolute yawner. The fact that I was napping during the last hour of the trading session and missed that 60 point drop just means that it never really existed for me. When I woke up, nothing was really any different.
Today? Where do you start with decribing today?
Well, you probably need to start with some sort of baseline. What represents the world's greatest change from one day to the next?
Some would argue that the dropping of the bomb on Hiroshima was such an event that so markedly distinguished between before and after.
Others might point to the assasination of John F. Kennedy, the day that an entire nation lost its innocence and left Camelot, never to return.
I think that Ted Williams, the man with the golden voice, best describes the transition that can be seen from one day to the next.
The photo that you're looking at is not the cryogenically gone bad head of the baseball Ted Williams. If your memory fails you, that's the picture on the day he was spotted at the intersection off ramp.
Here's what he looked like after you blinked your eyes just a few times:
Quite a difference, no?
Well how does yesterday's market action stack up next to Ted Williams?
It certainly was no flash crash and we've certainly seen volatility in the markets before. But today was at the very least not like the day that preceded it.
Obviously, I'm not prone to hyperbole.In fact, no one is less prone to hyperbole than me.
Today's action reminded me of speed dating, that is, if I did that sort of thing. We got to see a little of everything and exaggerated reactions to just about everything. There was also plenty of opportunity to make bad situational decisions.
Bad employment numbers, more Greek worries, less Greek worries, release of strategic oil reserves, resolution of Greek crisis, capture of Whitey Bulger and visions of Barney Frank and Ron Paul toking on a big one in a congressional hot tub.
These are a few of my favorite things.
I know that I'm not very smart when it comes to micro and macro-economic issues, but I'm still having a really hard time understanding the plunge in crude oil futures based on the graduated release of 60 million barrels of oil.
Oh, I see. A few days of reserves, over a few months.
Sure, that should tip the markets upside down. The fact that the Saudis had no great opposition to the symbolic move and the little bit of a squeeze it may theoretically place on Iran and Venezuela makes it all worthwhile.
Besides, now that I've had to modify my diet in response to the sludge like cholesterol induced blood that I have, I've cut out at least that much oil from my deep fryers in less time.
Maybe I'm just not following the right people on Twitter.
The only one that made the case that the reaction to the strategic oil reserve release was ridiculously overblown was Dennis Kneale from FOX News and FOX Business.
I'd say "Bravo", but that's an NBC property and they might take litigation against me for using that word in a direction laudatory of Dennis Kneale.
At least I can still say "WINNING" without hesitancy.
But maybe it was something Bernanke said in the after press conference party that got people worried. Do you think that maybe after a few kirs, he started spouting that not even QE 12 was going to get the economy out of the "Loo"?
Somehow, I have a hard time seeing that possibility. I know with great certitude, that the Federal Reserve Chairman would have used the word "crapper", owing to his southern heritage.
I also know with great certitude that I never used the word "certitude" prior to last week.
Whatever the cause, the volatility was there today. One measure, the ProShares Short-term VIX ETF was all over the place today. It traded in an 8% range today, finishing just pennies off its lows. It's June 2011 options were equally volatile, although that probably shouldn't be overly surprising, should it?
Like Riverbed Technology and Home Depot, the VIX ETF was still up all day. I only mention the latter two, because I had mentioned this past Friday that I was planning to purchase shares in both.
As I further mentioned on Monday, I didn't, having instead added shares in Halliburton, Freeport McMoran and Sallie Mae, instead. I'm not sure why I bother making those kind of disclosures.
Well, there's always tomorrow. After all, isn't that the theme?
In today's trading, it seemed as if there were really two transformative events, or non-events.
The oil reserve release and the reported Greek financial crisis resolution.
A tale of two absurdities.
The belief that a cultural way of life enjoyed by Greek citizens will be abolished by decree and banking fiat is probably not terribly realistic. Just more of the same. Kicking it down the road.
The fact that the per capita debt of the United States is actually $1,000 more than that of Greek citizens can't have too much relevance. Otherwise, we'd be doing something about it now, instead of tomorrow.
From my perspective, I don't care if our injudicious and wreckless fiscal actions effect my great-great-great granchildren. My reasoning is that I'm not very likely to have that strong of an emotional connection to them to be worried about how they've been left holding the bag for our frivolous ways and neither will my own kids.
So let's just do what we need to do today, to make tomorrow just another day of great denial.
Not denial of things that we value, like things, just denial of things that are irrelevent, like the concepts of truth and facts.
I guess in that way today and tomorrow don't really need to be that different.
TheAcsMan
|
Posted on
Thursday, April 28, 2011 at 8:10AM
|
tagged
Art Cashin,
Ben Bernanke,
FOREX,
Harvard,
Herb Greenberg,
Krispy Kreme,
Rick Santelli,
Ron Paul,
Sugar Momma
|
Email Article
|
Share Article →
TheAcsMan.com no longer publishes original content material. Reprints of previously published "Daily Market Updates" available to subscribers of OptionToProfit.com appear for informational purposes only and links are de-activated.
Since no one else will say so, I will.
I'm a pretty smart guy.
Two degrees from Harvard, living a pretty good life, only working if I want to and having a Sugar Momma go off to work 4 days a week.
Not bad. Kids are out of the house, dog is low maintenance and the coffee is fresh.
But as hard as I've tried, I really don't understand currencies. And let me throw in bonds, too.
All of this talk about the dollar, interest rates, currency exchanges just leave me dazed.
Forget about concepts like the Japanese Yen Carry Trade.
And yet, all sorts of morons are extolling their insights into the FOREX and willing to sell you a piece of their underdeveloped cortical lobes.
But at least I do know that the sanctity of the value of the US Dollar is a heated area of discussion.
In fact, yesterday, Art Cashin, while on CNBC, referred to Tim Geithner's statement regarding his defense of the value of the dollar as being a "Pinocchio statement".
Then there's the perennial Ron Paul crusade. Gold, dollar, consipracy. Whatever. Today he used the word "collusion".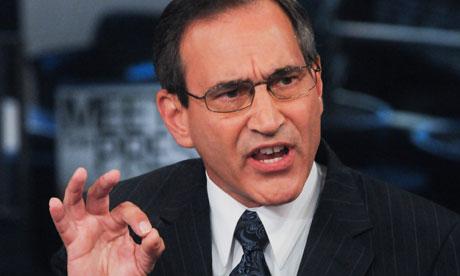 But this morning, just as I thought that I was at least beginning to understand the sides, comes RIck Santelli to upend my tenuous comfort zone.
As he was very patiently and uncharacteristically listening to the question set-up, he started his response by calling Chairman Bernanke an "honorable man".
The cynical me would have interpreted that somewhat akin to starting a response with the preface "With all due respect..."
But the rant never came off.
He actually did not diss Bernanke.He did not come to bury him.In fact, hestated that he believed that Bernake was a good American and had the interest's of the country heart.
I ascribe this to the fallout from Obama's full birth certificate being released.
Who knew that so much venom could be controlled by a single piece of paper?
Maybe the next thing to occur will be Trump changing his hair style.
But getting back to my ignorance, and mind you, I've always been very good with numbers and math theory, even having read Irving Adler's book on mathematical theory in 9th grade, yet still the currency thing escapes me.
Yes, I understand the inverse nature of all things interest rate related. I know to think backwards when it's called for. I even know not to end a sentence with a preposition.
I understand that as the Euro strengthens, the dollar may weaken (leaving out the further complication of the Swiss Franc).
But I like the idea of being able to pare down our deficit by taking advantage of a weak dollar. Isn't that also good for our exports? Or is that something that needs to be considered as the inverse of the inverse?
But again, Santelli honoring Bernanke?
That really throws things into a tailspin.
I've checked my Harvard degrees. They are irrevocable, not like those honorary pieces on faux parchment.
My best explanation, until proven otherwise, is that this was just another dream.
The idea of Santelli being respectful of Ben Bernanke is more ludicrous than KrispyKreme sending Herb Greenberg a box of free doughnuts daily, in thanks for his thoughtful and insightful analyses of their business practices and accounting.
It could happen.
NEWEST FOOTER2
Check out Recent PortfolioTransactions
TheAcsMan
|
Posted on
Wednesday, April 27, 2011 at 7:04AM
|
tagged
Art Cashin,
Bed Bath Beyond,
Ben Bernanke,
Boone Pickens,
CNBC,
Ron Paul,
Tim Geithner
|
Email Article
|
Share Article →
TheAcsMan.com no longer publishes original content material. Reprints of previously published "Daily Market Updates" available to subscribers of OptionToProfit.com appear for informational purposes only and links are de-activated.
I'm at that age that I don't dream that much anymore.
Maybe I still do, but if so, then I don't remember much.
As you do get older, I think that it's just a natural tendency to ascribe everything to the aging process. I recently covered the phenomenon of "ear hair", but there's really no shortage of changes, that one can only assume are age related.
But last night I did have a dream, a very vivid one at that. With the exception of the dog slobber, though, the bedding remained dry.
Interestingly, the dream was about Bed, Bath and Beyond.
Okay, maybe not so interesting.
I've never even been a shareholder, although admittedly, I do enjoy trying to maneuver a shopping cart through its narrow and maze like aisles, while following my wife as she hunts for "tchotchkes".
Amazing how that word is making the auto-spell go berserk. I tyhink the CPU is starting to smoke, as well.
Anyway, the essence of the dream is that I was, indeed, a shareholder and extraordiarily disappointing quarterely earnings were released, resulting in a stampede to sell.
My reaction while in slumberland?
"Bed, Bath and Beyond?. I don't think so. More like Bloodbath and Beyond".
And that was it.
The whole dream turned out to be nothing more than a soundbite or a pun that no one, including me, would appreciate. The greatest likelihood is that it's not even original.
And besides, what kind of normal person dreams about earnings reports for a stock that he's never owned?
Too much?
Too much!
I suppose I coujld be doing things that advance society wity all of my spare time, rather than sitting, sipping coffee, watching CNBC and looking for trading opportunities.
Yeah, and then this blog and those damn addicting Tweets.
But then I hear things like Boone Pickens saying "An economist is just a CPA without a personality". Well, it's those little throwaway snippets that make it all worthwhile, never mind that my youngest son just declared Economics as his major and my nephew is graduating next month as an Economics major.
No offense taken.
Of course, then my mind was equally entertained when a photo of Ron Pauil was shown, announcing that he was the on-deck CNBC guest and in the background they were playing the refrain "Tramps like us..." from Springsteen's "Born to Run".
I don't quite get the connection, but it gives me something to think about.
And then, did I hear it wrong, or did Art Cashin call Geithner a liar when he referred to his recent defense of the dollar as a "Pinocchio comment".
Whoa, let's see Geithner's birth certificate. Althoiugh given his less than dynamic personality, I think they may even have difficulty in dredging up a Certificate of Live Birth.
Meanwhile, the first real thing I did this morning, this second week of earnings season, was to check when BBBY was scheduled to report earnings.
They're still 2 months away from their next report. So then I looked at their 1 year price chart and that was followed by the May 2011 options tables.
That's a bad sign when I start letting dreams direct my investing activities.
Luckily, it's still an hour away from the opening bell and there's plenty of time for rational thought to take hold and prevent me from doing something irrational.
Besides, if you've bought the OTP book, you know that I keep a list of about 50 "Old Reliables", stocks that I trade in and out of as appropriate. I rarely vary from that list.
BBBY isn't on the list.
Not quite the same entrance criteria as used to be used at Studio 54, but at least I'm still standing and I'm very grateful that Puff Daddy didn't turn state's evidence on me.
I'm afraid that today's market actions will be muted and not because of the uncertainty of my dreams.
I think that absent any great earth shaking news, literally and figuratively, the world is waiting to see what Bernanke will say at the much heralded press conference.
I'm betting that he'll admit to a series of unsolved murders in the Southwest.
Maybe he'll announce that he's a finalist on "The Voice".
Sure, I know, some of you are probably replacing "The Voice" with "The Biggest Loser", but I'm not in that category. Besides, I've seen the Chairman's birth certificate.
I happen to use my own Bernanke indicator.
I look at the thickness of his "Talis Bag".
For some of my readers, you may as well Google that, along with "Tschotchkes".
I used to use the velocity of the graying of his beard to assess our economic status, but these days there's no longer any velocity.
As always, the talking heads are taking all sides on the reasons for this unprecedented press conference, as well as the outcomes on the day's trading.
My guess is that somehow he will affirm the seriousness of S&P's warning last week, while balancing that with statements pointing to an improving economic picture.
He'll mention the balancing of increased revenues with spending cuts as being first steps toward a resolution of the debt crisis.
Or he may just talk about the NFL lockout.
Watching Ron Paul, I'm certain that Bernanke won't admit that he's finally converted to Paul's gold position and the currency. and the role of the Federal Reserve.
Not that I'm a conspiracy theorist, but it was interesting that Ron Paul's satellite feed seemed to go out just as soon as he started his rant.
Besides, Ron Paul's Talis Bag is might thin.
So who are you going to trust?